Staying Clean on an Ocean Kayaking & Camping Adventure
Sea kayaking trips are an incredible way to immerse yourself in the beauty of our natural world and experience up-close encounters with wildlife. But wild camping under the stars does have limitations when it comes to showering and staying clean. At the end of the day, everyone's in the same boat (and you'll probably be too busy living it up to worry about how you smell). But to ensure you stay hygienic, we've put together a few of our tried and tested tips for staying clean when out on the ocean.
1. Invest in Quick-Drying and Antimicrobial Clothing
By wearing quick-drying and antimicrobial clothing, you'll go a long way in preventing bad odors in the first place. Antimicrobial clothing is designed to stop odor-causing bacteria from taking root, so you'll stay fresher for longer in between laundry visits. If you don't want to splash out on multiple sets of clothing, spend your money wisely on antimicrobial undergarments and socks that will dry quickly and won't foster bacteria growth.
2. Create a Clean-Clothes System
When you're packing, figure out a sure-fire way of keeping your clean clothes separate from your dirty ones so that they aren't "contaminated" during the trip. Large plastic or zip lock bags will do the job or you may opt to use a backpack that has a variety of storage compartments.
3. Utilize Dry Shampoo and Hats
Greasy hair is inevitable after a few days without showering. If it's something that concerns you, consider packing a dry shampoo that can be applied without the need for any water. Simply spray the shampoo onto your hair and keep it grease-free a little longer. Alternatively, you may opt to wear a hat throughout the trip to cover your hair or arrange it in braids that will detract from any greasiness.
4. Swim and Snorkel
Most of our kayaking trips offer plenty of opportunities to swim and snorkel, which is a simple way of cleansing the body of any grease and grime. But saltwater rarely makes you feel "clean", so it's a good idea to bring a stash of wipes that can be used to wipe off the salt afterward and will leave you feeling a little more refreshed.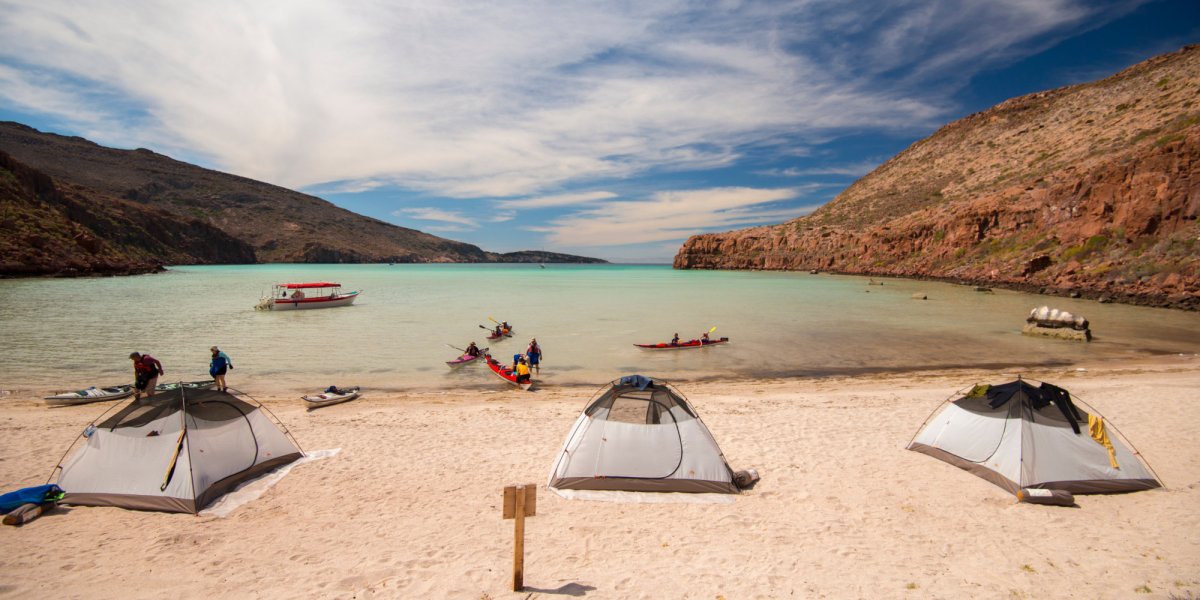 5. Plan a Solar Shower When You Need it Most
On some trips, we'll fill our solar shower with clean water so that guests can have a rinse at some point during the itinerary. But it's impossible to carry enough water to last the entire trip, so check with your guide and determine when's the best time to take advantage of it or if it will be an option during your itinerary.
6. Carry Hand Sanitizer
A small container of hand sanitizer is a great addition to your gear list when it comes to hygiene on the ocean. Just a little squeeze can be applied to your hands after using the bathroom or before meals, reducing the need to use the limited freshwater reserves that are available.
7. Use the Sun to Dry and Sanitize Your Gear
Mother Nature works wonders and the power of the sun is a simple way of drying your gear and keeping it sanitized throughout the trip. Wet gear stashed away is more likely to become odorous and start breeding unwanted germs that will quickly spread throughout your pack.